Poniżej przedstawiamy podstawowe dziedziny przemysłu w których świadczymy usługi
We have very extensive experience in the area of rail vehicle design, especially in load-bearing structures, bodies and subsystems. All our designs are optimized and computationally validated using professional and proven calculation methods. We have repeatedly verified the calculation methods in full body static tests with multiple strain gauges and in full-scale crash tests.
We have extensive experience and knowledge in the area of vehicle bodies and chassis systems. We have carried out preliminary designs of load-bearing structures for new platforms of mass-produced car bodies for customers in the automotive industry, as well as designs of bodies and components for special vehicles based on 4x4 or 8x8 truck chassis, or designs of sports vehicles including complete suspensions.
We design support structures, mechanisms and subsystems for heavy-duty work machinery including self-propelled systems using tracks and other drive solutions. We have experience in design work in large power generators and small scale production parts (i.e. welded, sheet metal, composites, theromoformed,...).
We design HVAC systems, drive cooling, battery containers, fuel tanks, integrate pneumatic or hydraulic systems. In our design work, we use simulation tools and analytical calculations to correctly select components and develop control guidelines.
We design various machines and equipment, mechanisms, integrate electronic systems and IT components. We also carry out design work for technological instrumentation for machining and welding processes, including robotic and laser welding. We also carry out designs for assembly instruments. In some cases, we are able to manufacture and supply special tooling. We manufacture, program and supply test benches, including those based on the Labview system.
The Invenco Engineering team consists of experienced, competent specialists combining the best engineering and scientific qualities to responsibly execute complex projects. From the very beginning of our activity, we have placed great emphasis on computational aspects, as well as on applied construction and technological knowledge. We work dedicatedly for the benefit of our clients, taking care of the quality of our services.
In our team, we have people with engineering design, computational, research and managerial experience in the complex design process in the area of advanced mechanical engineering.
We have a deep understanding of the theoretical foundations of problems of elasticity, plasticity, large deformation of structures, impact and crash processes, shock waves dynamics, vibration problems and material fatigue.
In addition, we have a group dedicated to the engineering of vision systems, control systems, unmanned vehicles and mobile robots and general programming in C, C++ and Python.

We are certified by TUV Rheinland to design welded structures of rail vehicles in accordance with PN EN-15085. and employ a certified welding engineer.
In the case of greater demand, we can adapt to your requirements and build a team suitable for carrying out tasks that go beyond the current configuration of our team.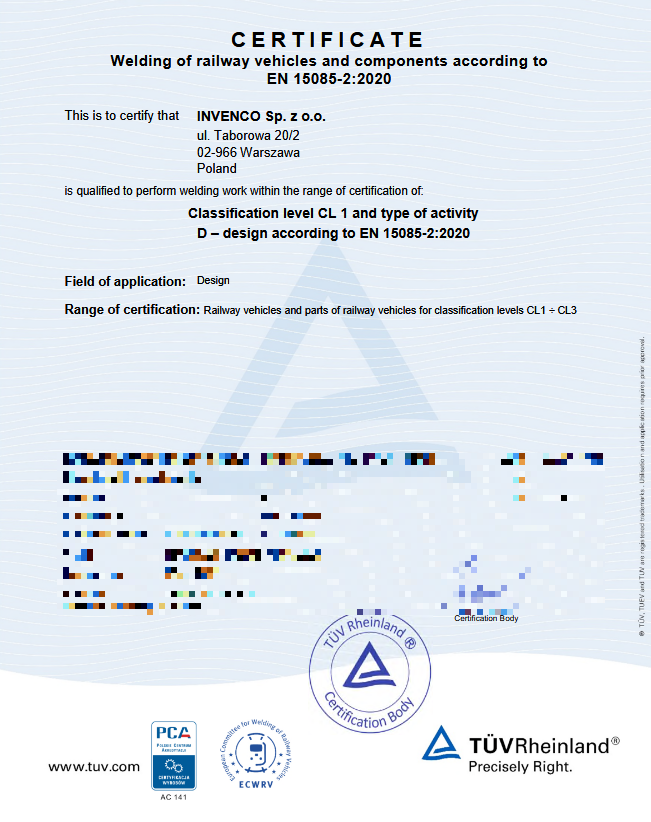 Selected projects from our portfolio
Rail vehicles
Body structures for electric multiple units (EMUs), diesel multiple units (DMUs), locomotives, tramways, frame and semi-frame structures
Designs of crash zones for rail vehicles
Design of fuel tanks, traction engine cooling systems, HVAC systems
Comrehensive design of a full bodies and interiors of rail vehicles
Designs of battery containers and fastening system
Comprehensive static, fatigue and crash FEM calculations of rail vehicle bodies and components
Static and fatigue FEM calculations of adhesive joints and composites (vehicle fronts, guards)
CFD aerodynamic simulations of external streamline and HVAC system operation
Calculation of bolted connections
Simulations of internal lighting
Land vehicles
Preliminary design of body crash energy absorption systems (analytical calculations), crash simulations of the body of an electric passenger car intended for mass production in accordance with C-NCAP (CN-DE client)
Preliminary design of an electric passenger car (small series)
Preliminary design of body crash energy absorption systems, body crash simulations, analysis and optimization of modal properties, of an electric passenger car intended for mass production in accordance with EuroNCAP and ECE (client GB-DE)
Sandwich box of a vehicle of the light bus
Frameless sandwich box of a off-road truck adventure travel vehicle
Body structure, chassis and drive train of a sports car
Static and crash simulations of seats and interior components of passenger cars for compliance with ECE regulations
Strength calculations of the structure of heavy road-terrain vehicles and other special vehicles
Simulations of driving dynamics of heavy off road towing vehicle
FEM calculations of automotive seats (FR-PL client)
Fluid-sloshing problems in tanks
Others
Engineering design and calculations of high-power diesel traction generator, shaft torsional vibration calculations for coupling optimization
FEM calculations of a high-power hydrosystem
Analytical-numerical calculations of supports used in construction
Calculation and design of structures for the impact of shock waves, strokes and impacts
Calculation of load-bearing structures of equipment used in road and construction engineering
Design, calculation and testing of complex mechanisms intended for mass production (for the NL customer)
Designs of production tooling for manual, robotic arc and laser welding technologies, other tools and fixtures.